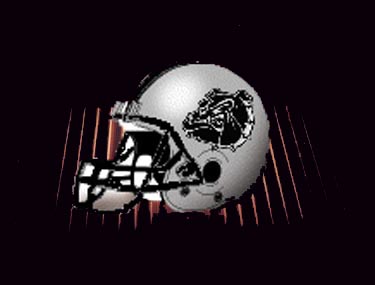 Dogs Finish 3-7
SADLER--Howe's Sean Turner rushed for 120 yards on 26 carries and Howe's first score in the second quarter. Brian Sims ran the fake kick for the two-point conversion.S&S answered in two plays on a Casey Caras 62-yard pass to Aaron Wilson. The two-point pass failed.Jarod Stanford kicked a 33-yard field goal capitalizing on an interception by Casey Caras.Josh Farris scored for Howe in the third capping a 29-yard drive. The two-point pass failed leaving the score 14-9 Howe.Casey Caras got S&S back in the game on a 46-yard run and John Scarborough's 3-yard run completing the drive for the score, the two-point pass failed. But the one held up for the win.

Howe finished the season at 3-7, the worst record since 1993 (2-7-1). This is only the 4th time in 19 seasons that the Bulldogs have finished under .500. Howe scored the least amount of points (116) as a team this year since Davey DuBoses initial season in 1996 (98). The good news is that this is the eight straight season that the Bulldogs have allowed fewer than 200 points in a season (194).

Sean Turner, the Bulldogs leading scorer moved into a tie for 90th overall scorer in history with Michael Evans, Jon Norwood, and Billy Oswalt with 30 points each in a career.

Larry McFarlin named 20th Head Coach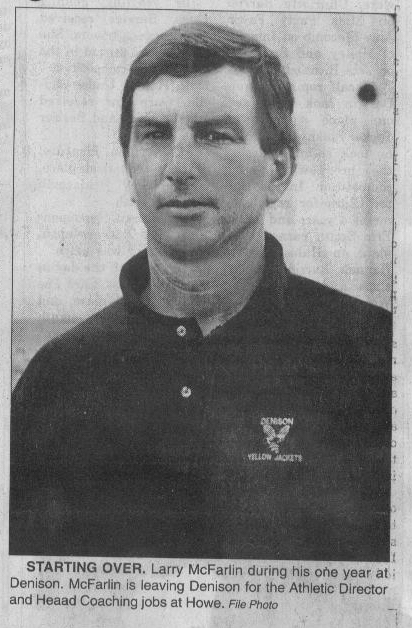 by Rich Hilliard - Denison Post Correspondent

HOWE - Denison assistant Larry McFarlin was hired Tuesday by Class 2A Howe as its new head football coach and athletic director.

"I think it is a great opportunity, and a great school district, " said McFarlin, on Tuesday night. "It has lots of tradition in athletics and outstanding academics."

"Everything has been really positive thus far," he said. "All (at Howe) have high expectations and are going in the same direction. It's going to be a fun experience."

McFarlin additionally termed Howe's TAAS scores as being "incredible." He said they have a "remarkable" band and an "outstanding" agriculture department.

He will also be Howe's head track coach. The program will have a new track for 2002, with resurfacing work ot start following football season.

The head coaching position is the first for McFarlin, a Bonham alumnus. He replaces Davey DuBose who took the same position at 3A Brady last month.

Howe opens the regular season with 3A Princeton, before games against Trinity Christian and Liberty Christian.

McFarlin takes over a Howe football program which has made three-consecutive postseason appearances. In 1998, the Bulldogs were Division 1 regional finalists, before being 6-5 bi-district finalists the last two years.

His hiring is the fourth change in District 13-2A during the off-season three of which were the top four finishers in 2000. Only Whitewright, the defending district champion, will return the same head coach.

Previously, McFarlin was at 4A Denison for the past year. He coordinated the secondary, specifically safeties, besides assisting with track.

He came to Denison from 4A Paris North Lamar, after a five-year stint. McFarlin spent the final three years as a varsity assistant, coordinating the Panthers' offense in 1999, after two years with the defense. North Lamar had its first winning season in 16 years during his first season (1997) on the varsity staff. He coached junior high football, during his first two years, before Tommy Felty promoted him to the varsity staff when he became the Panthers' head coach.

"Larry is a good coach and motivator," said Felty. "He has wanted a head coaching job for a while and I'm really proud that he got one."

McFarlin was simultaneously North Lamar's head track coach, his final three years there. He led the program to it's first home-meet championship also, it's first 4A meet championship breaking nine school records. McFarlin also oversaw the efforts of an athlete who advanced consecutively to state in the pole vault.

McFarlin was Bonham's defensive coordinator for nine years including eight-straight postseason appearances. In 1991, his Bonham unit allowed and average of 3.9 points during the reguar season, with six shutouts. The final three came to close the regular season, as the Purple Warriors finished as undefeated district champions their last title, to date and advanced to the area round, losing to then-undefeated Forney. The first shutout of three straight, to start the season came when his unit matched Clarksville, in a 0-0 tie. Bonham, his alma mater, finished 10-1-1 that season.

"I think he will do a great job," said Loy Dean Clark, Bonham head football coach and athletic director, 1984-93.

"He was a tremendous asset to the staff at Bonham and also did a good job at North Lamar, (besides) having success at Denison," said Clark. "I don't think there is a more deserving coach than Coach 'Mac.' I wish him all the luck in the world."

While coaching Bonham's men's track, the program won 11-consecutive district titles.

He is the brother of Randy McFarlin, head coach at 16-3A Dangerfield.

Dave Campbells Texas Football -
District Picks:
1. Whitewright
2. Van Alstyne
3. S&S
4. Gunter
5. Anna
6. Bells
7. Howe
8. Tom Bean

Howe Bulldogs - Coach: Larry McFarlin
11 lettermen, 2 offensive and 6 defensive return from a 6-5 team. 14 lettermen lost.

Players to watch: LB Troy Allison (5'9, 180, 4.8).
Other returning starters: RB-LB Eric Martin, WR-DB Eric Brooks, WR-DB Dale Boyd, RB-LB Guy Messick, RB-DE Cameron Clayton, G-DL John Watt, C-LB James Latham, OT-DT Adam Davenport, OT-DT Junior Cruz, TE-DE Brandon Davis.

Notes: Having to replace nine offensive starters puts the Bulldogs at a disadvantage. Defensively, all-district selections Martin, Boyd, Messick, and Clayton return.
Schedule (click game for box score)
Date Score Opponent Opp. Score Type Time Fri, 9/7/01 6 vs Princeton 20 N 7:30 p.m
Fri, 9/14/01 9 at Denton Liberty 49 N 7:30 p.m.
Fri, 9/21/01 0 vs TCA-Addison 0 N 7:30 p.m.
Fri, 9/28/01 0 vs Bells 0 N 7:30 p.m.
Fri, 10/5/01 0 at Anna 0 D 7:30 p.m.
Fri, 10/12/01 0 at Tom Bean 0 D 7:30 p.m.
Fri, 10/19/01 0 vs Van Alstyne 0 D 7:30 p.m.
Fri, 10/26/01 0 at Gunter 0 D 7:30 p.m.
Fri, 11/2/01 0 vs Whitewright 0 D 7:30 p.m.